So far I've cried tears of joy at 100% of the births I've photographed, but nothing compares to how I felt watching my best friend give birth to her second baby yesterday. I have known Jennifer and John since we met in 2005 when we both joined URI's ambulance corps. I remember when she started dating her now-husband John, and I started dating my husband, and we both wondered if they were "the ones" (they were).
Then we both started our careers, got engaged to our future hubbies, got married and she had her son Colby six months before my daughter was born. Colby calls me Auntie Kate and Hannah calls her Auntie Jenny and absolutely adores John. We have spent many days at each others' houses just hanging out and watching the kids play. She and John told my husband and I that they were expecting another baby back in early Spring and I was so excited!
I shot their maternity photos a couple of months ago, and then when it was time, I photographed Callum's birth.
As I ask all of my birth clients to do, Jenny and John notified me when she was at 5cm. She had checked into the hospital and was having some pretty strong contractions.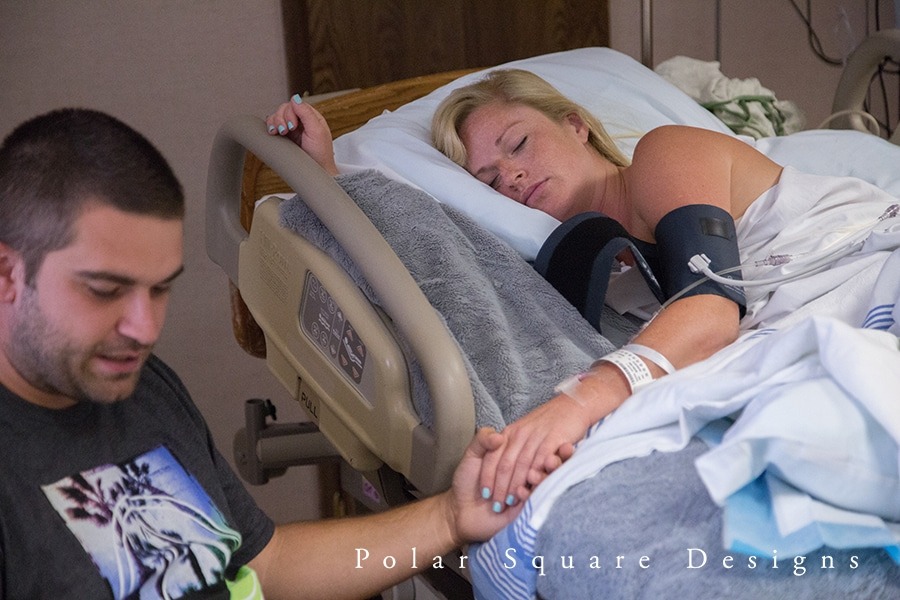 Right before I arrived, she got an epidural, so things were calm and she felt ok when I first saw her.
Then she started to experience a lot of back pain. The doctor guessed that the baby was facing backward so she was experiencing back labor. Poor Jenny, I felt so awful for her, but she handled it with grace.
John always finds a way to lighten the mood. He was awesome.
Jenny tried a few different positions to try and get the pressure off her back. She found that this one helped her a lot.
Soon it was time to push!
Baby Callum's first moments.
This photo is probably my favourite image from births that I have ever taken. I was crying, too. It was an incredibly moving moment.
Hi, Callum!
Callum getting a good look at his Daddy.
He weighed exactly the same as his big brother Colby did when he was born.
Tiny ears…
…and ten tiny toes.
Kent does this really cool thing where after they get the footprints for the birth certificate, they stamp the baby's feet on Dad's arms.
Welcome to the world, Callum! We love you.
Save