My Free Photos for Public Safety Families event was a huge hit. This event was certainly a labour of love but I am thrilled with how it went, and especially the effect it had on the families we photographed.
Planning the event was about a five week process. I focused heavily on spreading the word through social media and by contacting the Chiefs of all the local departments. The event started out as an event for Law Enforcement families but I quickly decided to open it up to all of Public Safety, which included Fire, EMS, Police and Emergency Management. We also opened it up to Military families.
My first mission was to write a press release. If I've learned one thing about owning and running my own business, it's that I have to be comfortable completing any kind of task, because it's not like I have a staff of people to help me out. Luckily, I do have a friend who is excellent at writing and has experience writing press releases, and she offered to help me. I was so relieved!
I created a flyer for the event that had all of the information, plus the logos of the six other photographers who had volunteered to help me out. I also added Dave's Marketplace's logo because they sponsored the refreshments for the families. So generous!
Next, I contacted a friend who works for a local TV station and asked if he had any pointers for me, since I had never organized an event this large before. He gave me some media contacts to send the press release and flyer to, and also invited me to come on the air to talk about the event! I was so excited. I went on The Rhode Show on September 10th to explain what we were doing and why. It was quite close to the event date but I was hoping that more families would sign up once they saw the live broadcast. Here are a couple of images taken when we were getting ready to go on the air, and the video of the segment:
Many asked me why it was important to me to provide Free Photos for Public Safety Families. I've been a licensed EMT in Rhode Island for about ten years, and my husband is a full-time Paramedic. My husband comes from a family of Police Officers; his dad is a retired Port Authority of NY officer. So we know first-hand the commitment it takes to keep the public safe. We have many friends who are involved with all facets of public safety and I personally don't think people in these professions get enough recognition. In fact, it makes me downright irate to see the negative press surrounding specifically police officers. These men and women go to work every day and deal with a lot of scary stuff at great personal risk. Why let some bad individuals taint the public perception of an entire workforce?

But enough negativity. This event was overwhelmingly positive. It was held at Goddard State Park in Warwick, RI, and we had the most beautiful day for it, with gorgeous, partly cloudy skies (perfect for photography!). The families were all so happy to be participating. I personally photographed the most wonderful, happy, kind officers, EMT's and fire professionals and their families. I hope if I ever have to call for help, these men and women are the ones who respond! They rocked.

The other photographers who volunteered their time had similar praise for their clients. I think we all felt very blessed and grateful to be there, even as the ones putting on the event.

Here are some behind-the-scenes images I took during the event:
Kayla of Bright Lights Imagery photographing one of the police dogs who attended the event (we were all very excited to see a dog!!)
And some photographs that I took of my client families during the event:
Every family who signed up for the Free Photos for Public Safety Families event got a new client guide, which included information on what they could expect and also a guide on picking out clothing for the whole family. Everyone came dressed so perfectly and I was so happy!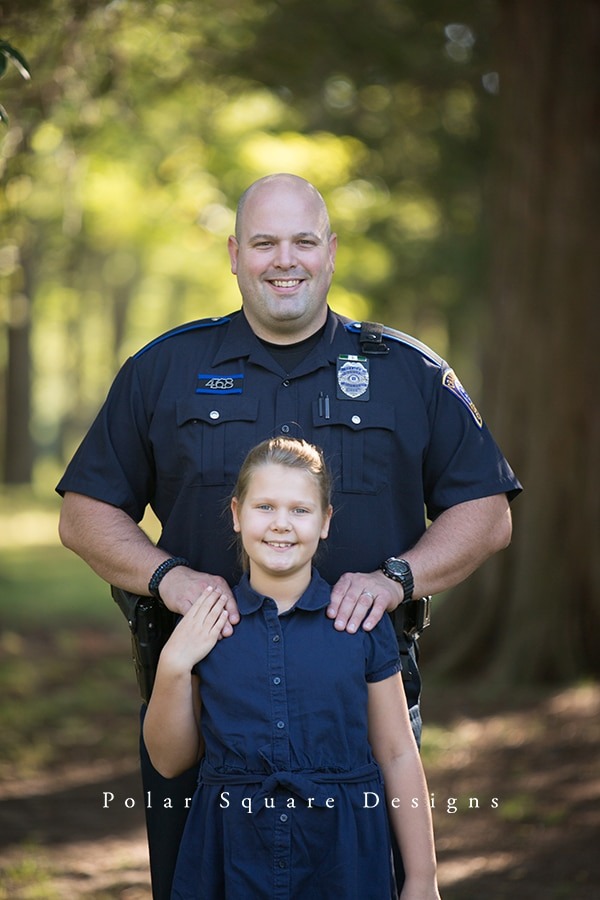 Overall, I think this year's Free Photos for Public Safety Families event was a big success. I wouldn't have been able to do it without the help of Teresa Sweet Photograpy, Bright Lights Imagery, Stack9 Photo and Design, Past Perfect Photography, Irena Mandel Photography, and C.R. Photography. I am also very grateful that Dave's Marketplace provided a nice big spread of refreshments for the families.
I hope to do this event again in 2017, most likely in late spring/early summer on a Saturday.
Save
Save
Save
Save