Nothing is better than taking a nice drive up to Maine in the peak of Fall, and that's exactly what I had the privilege of doing to photograph Nate and Tracie's wedding on October 7, 2017.
Venue: Spire 29
DJ: Jerry Bazata / Maine Disc Jockey
Catering: Amatos
I met up with Tracie at her parents' house to photograph her getting ready with her family and bridesmaids, and my second shooter Liz met up with Nate as he put the finishing touches on his wedding attire, plus hung out with his groomsmen out on the golf course.
Then we all headed over to Spire 29 for the ceremony and reception. Nate greeted family and friends as they arrived, while Tracie and her bridal party waited downstairs. Nate and Tracie did not do a first look so it was very important to Tracie to stay hidden until it was time to walk down the aisle.
The ceremony was lovely and we left straightaway after it concluded to get the formals done. This time of year, the days get about 3 minutes shorter each day, and we lose the light very quickly, so it was important to get the wedding party and family to the formals location to get through the whole formals list before the sun went down! To complicate things, it was a very foggy afternoon/evening so I had even less light to work with. Everything went off without a problem though and we got all the shots on the list with time to spare.
We headed back to the venue to enjoy the reception, which was a ton of fun thanks to awesome entertainment by Jerry Bataza. He even helped me coordinate a couple of group portraits that Nate and Tracie had requested. When vendors work together, everything is so much easier! The whole day was very relaxed and low-stress, thanks to Nate and Tracie's careful planning. I don't think I have ever worked with a more organized couple!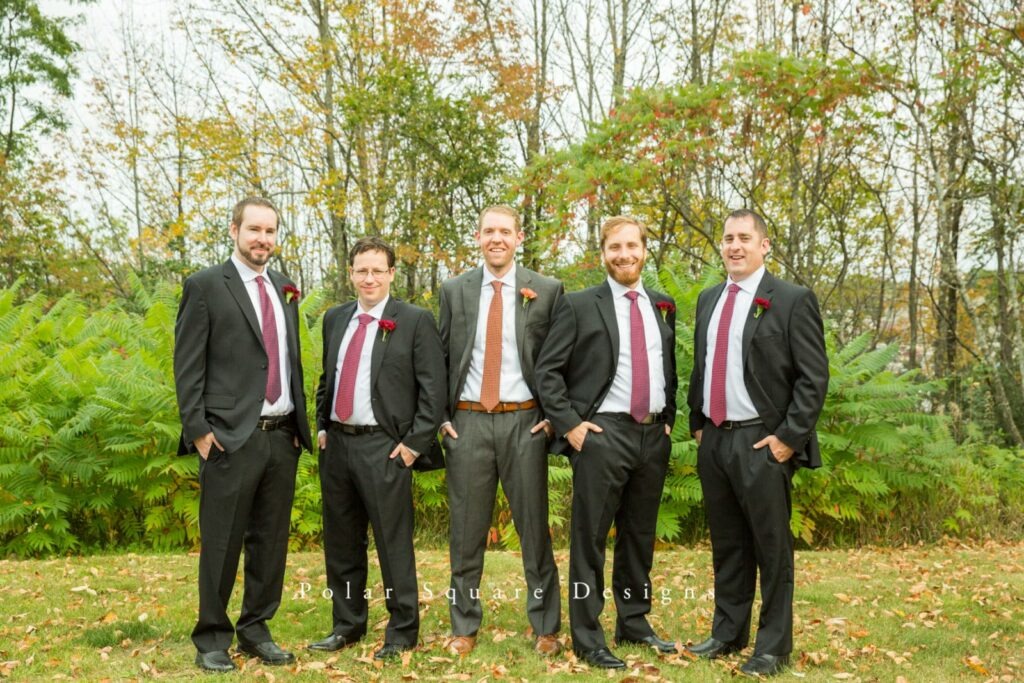 Tracie had requested photos of her three lovely dogs, who were all at her parents house. They were even dressed up for the occasion! Two had a bow tie on and this guy sported a tutu in the most manly way possible 😉
Congratulations, Nate and Tracie!
For more information about my wedding photography services, click here.