I am asked so often how to know the number of hours of wedding photography coverage that a couple might need, and how to plan the day out. These two aspects of wedding planning go hand in hand. Here is a guide on deciphering the wedding day timeline, and how to make sure you have enough time for each part of your day.
For a full day wedding (in my case, typically 8 hours of coverage), couples choose either to do a first look, or not to do one. The first look choice affects the flow of the day significantly, because it determines whether we do your family and wedding party portraits before or after the ceremony.
A typical wedding day timeline with a first look consists of the following parts:
Getting ready
First look
Couple, wedding party & family portraits
Ceremony
Cocktail hour
Reception
Exit
A wedding without a first look would flow similarly to this:
Getting ready
Ceremony
Cocktail hour, during which I'd photograph wedding party, family, and couple portraits
Reception
Exit
Here's a breakdown of each section, and how long I typically schedule for it:
Getting Ready
Time scheduled: 45-60 minutes
I often start off my wedding coverage by meeting my bride or groom at their getting ready location. This could be a house, a hotel room, or the venue. During wedding prep, I photograph the details, such as the wedding dress, suit, flowers, rings, vow books, invitation suite, and other important items. I get candid portraits of my client and his or her attendants as they celebrate the start of the day, have finishing touches of hair and makeup, and get dressed. If time allows, I'll do some group portraits, and sometimes even individual portraits of the wedding party. I'll also make sure to do some bridal or groom portraits. This is usually a very fun and laidback part of the wedding day!
If each of my clients is getting ready in a separate location and they both want to be photographed, I need a second shooter. If they are getting ready in the same location, I can most likely photograph both people if I schedule enough time.
First Look
Time scheduled: 30 minutes
The first look is always so exciting! After both clients are ready, they meet in a secluded spot and see each other before the ceremony. First looks are really popular for a few reasons. Mainly, they take pressure off the couple since they are without a huge audience the first time they see each other. From that moment on, they are a team throughout the whole day. Also, first looks make it possible for the couple to attend the whole cocktail hour and socialize with their guests. Some clients worry that first looks take away the magic of walking down the aisle but trust me, you still will have those butterflies!! I usually schedule about 30 minutes for first looks when I build the wedding day timeline, because any extra time will run into couples portraits.
Couple, Wedding Party & Family Portraits
Time scheduled: 60 minutes
Formal portraits are such an important part of the day and so they get priority when building a wedding day timeline. When else do all your loved ones come together at the same location? Portrait time is one of the few times I will formally pose people, because it really makes a difference to have everyone lined up, paying attention, and looking sharp! Of course I'll do fun prompts and poses too!
For this section of the timeline, I typically schedule in 60 minutes. An exception may be if you have a massive family or wedding party (I'd schedule extra time), or a very small family. Often I get clients who choose not to have a wedding party, so I'd reduce the time needed for the portraits in their case, also. The great news is that any extra time can be spent getting additional couples portraits!
I do feel it's worth getting large group portraits, and then breaking the group down into smaller family portraits. I'll also recommend doing each parent separately and then together, a portrait of just the siblings, just the cousins, etc. I'd much rather do more groupings than you think you need, than not do enough.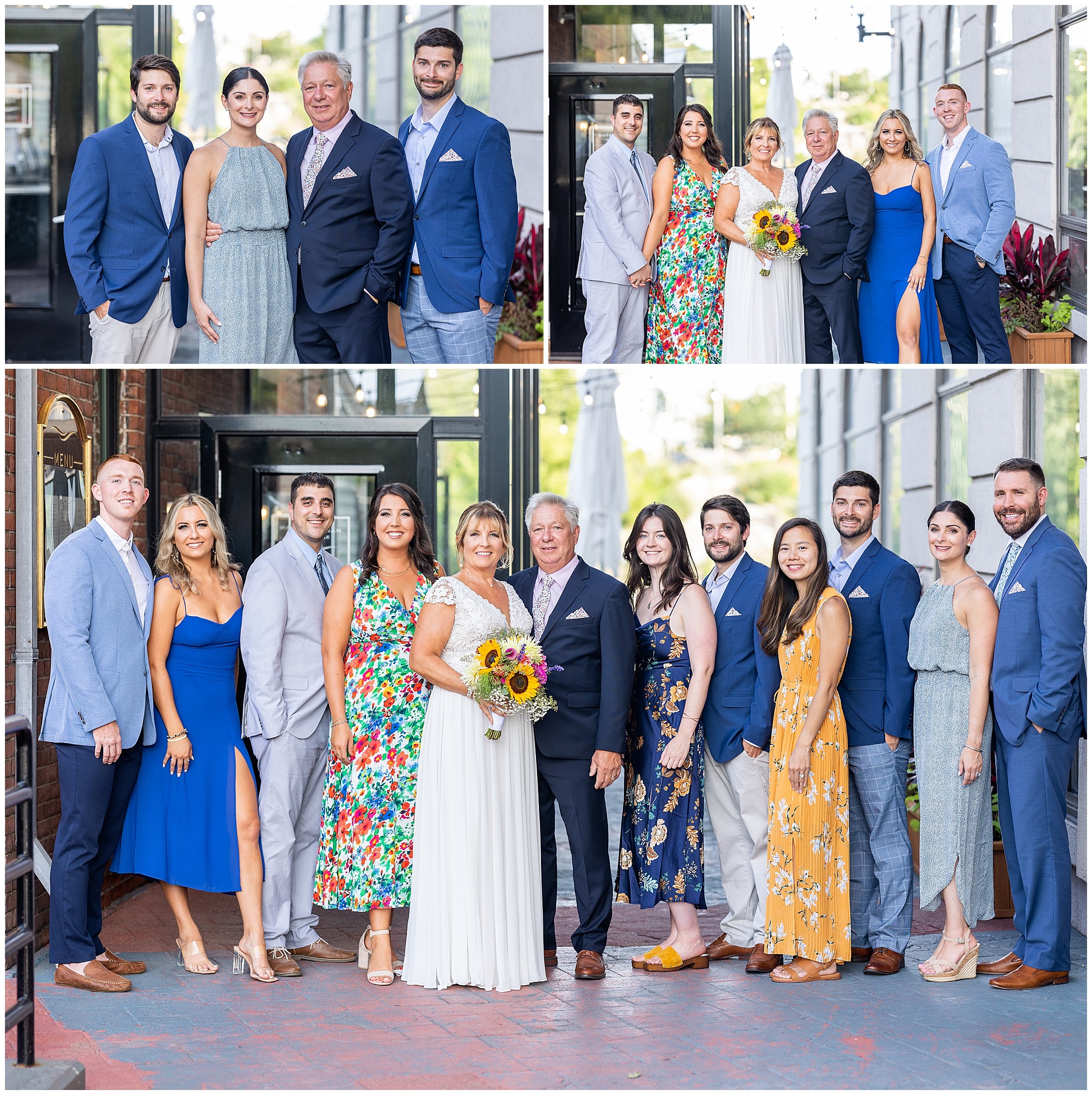 Ceremony
Time scheduled: 30-90 minutes
Ceremonies vary greatly in length. The fastest ceremony I ever photographed was a backyard wedding that had a 4 minute and 30 second ceremony, and the longest was a full Catholic mass church ceremony, which was over an hour. No matter what, I heavily pad the ceremony time. Ceremonies rarely start on time, and if I have extra minutes in this section, I love to sweep the couple away for some more portraits.
Cocktail Hour
Time scheduled: 60 minutes
As the name suggests, the cocktail hour is traditionally a full hour, so that's what it gets scheduled for in the wedding day timeline. If we do a first look, I'll be walking around the cocktail hour space getting group candids. I'll also sneak away and photograph the details of your reception space before your guests are allowed into the room. If you choose not to do a first look, we'll be spending the full hour doing formal portraits and I will have scheduled additional time to photograph the reception details.
Reception
Time scheduled: 1-2 hours
The reception is where so many big formalities happen, and I love to be there for at least 1-2 hours of it as the wedding day timeline allows. I encourage my clients to speak to their DJ or MC about plans for the flow of the reception. From a photography standpoint, it helps a lot if the couple goes right into their first dance after the introductions, then does the other formalities such as parent dances, cake cutting, and/or toasts and speeches closer to the beginning of the reception, vs. waiting. This way, I have a better chance of being there still to photograph them.
A sit down dinner usually takes up 60-90 minutes, so if my clients wait until after dinner to do the special dances, I may not have enough time to stay. Also, I can't even say how many times in my experience the kitchen has run late (sometimes an hour late!) and that can really affect the timeline. I do give clients the opportunity to add hours onto their coverage if things are running late but I feel that it can be totally avoided by doing anything important before dinner.
After dinner, the entertainment will open up the dance floor. Once the dance floor is open, I need about 45 minutes or so of dancing time to get some super fun shots of the guests living it up. At that point, I have what I need and can head home to back up my files!
Exit
Time scheduled: 30 minutes
Sometimes, clients ask if I'll photograph their planned exit. Of course I will! Sparkler exits are really popular, and often the biggest reason I stay until the end of the night. It takes time to set up the sparkler exit, make sure guests are ready and safely holding them, and coordinate the couple coming out. Most often I schedule 30 minutes or so to set this all up and orchestrate it, though the actual exit is pretty quick! There are lots of safety considerations to think about for sparkler exits, so if you have your heart set on one, make sure to keep me and your venue in the loop so we can do it safely.
Don't forget the travel time
If you're planning on traveling to different sites for your prep, ceremony, portraits and reception, you cannot forget to consider travel time in your wedding day timeline. Sometimes it's a quick 5 minute car ride between locations; other times it's a longer trip and we're battling weekend traffic in a tiny touristy town and limited parking. No matter what the circumstances are, I always schedule tons of cushion time for travel. Worst case will be that everything runs late, traffic is a nightmare, and we still arrive on time because I've anticipated that. Best case scenario is that there's little to no traffic and we find a parking spot as soon as we arrive. In that case, we'll get some extra portraits or you can relax for a few minutes.
Bringing it All Together
My wedding packages include either 6 or 8 hours of coverage, though I do offer smaller elopement options and the ability to add extra hours onto the bigger packages. When it comes time to build the actual timeline, I start with the events that are already scheduled, like the start of the ceremony, and then work backward. So if a client has a 3pm ceremony scheduled, I'll start there, then work into the earlier part of the day to figure out the start time of the other sections.
This is a sample 8 hour day where the entire event is at the same location and therefore no travel time is necessary:
12pm – 1pm: Getting ready
1pm – 1:30pm: First look, couples portraits
1:30pm – 2:30pm: Wedding party & family portraits
2:30pm – 3:00pm: Couple hidden away, photograph ceremony details and candids of guests arriving
3:00pm – 3:30pm: Ceremony
3:30pm – 4:30pm: Cocktail hour, photograph group candids of guests and reception details
4:30pm: Guests seated for introductions
4:45pm: Intros, first dance, parent dances, toasts
5:30pm: Dinner served
6:30pm: Dance floor opens
8:00pm: Photography ends
Each wedding is different, and I do this part of the planning for all my clients. If you're working with a wedding planner or venue coordinator, I loop them in so we're all on the same page. The wedding day timeline is a very helpful and super important tool so that all your vendors have a clear layout of the day and know what the plans are.